About Us
Industrial Bars have always been in high demands in the construction and many other sectors of India. Their wide usage has been the biggest attribute to such immense demand in the marketplace. Our enterprise, Matta Drawing Works, is currently considered one of the leading manufacturers and wholesalers of the industrial sector, specializing in Bright Bars & & File Bars made employing diverse materials. We have been offering the best variety to clients since 1995. Today, our company is the proud provider of flawless Trapezoids MS Bright Bars, Sharp Corner Flat Bright Bars, MS Cut File Bars, Mild Steel Bright Bars, EN8 Round Bright Bars, Square Bright Bars, etc. These are carefully designed and customized as per the exact requirements of clients. The dimensional specifications of these bars are modified as per the demands of clients at all times. No mistakes are made, the clients are delivered with exact quantity and quality that has been promised to them.
Our enterprise functions under the leadership of Mr. Dheeraj Mehta, he is the strongest asset to our business concern. His immense knowledge and experience of the industrial sector has been of great help to our company. Utilizing such intellect of the sector, he guides us towards the path of success. Under his leadership, we aspire to become the top name of the country.
Our Infrastructure
Our enterprise is one of the most appreciated names in the sector, recognized for our diligent work performance and focus towards quality. We aim to always manufacture the best items for our clients. To do the same, we have constructed a top-notch infrastructure base. This base has been employed with few of the most advanced machines of the sector, which are constantly well maintained and repaired in regular interval of times. To facilitate smooth flow of work, we have divided the base into small sections, segregating diverse functional departments to create a distraction free work environment. The segregated departments includes warehousing & packaging section, quality control section, production section and more.
Why Us?
Our skilled team of professionals always design and produce top grade D Shape MS Bright Bars, L Shaped Cold Drawn Bright Bars, etc.
Our company offers top class product and packaging customization services to clients
Our enterprise assures a speedy and safe delivery of clients orders at all times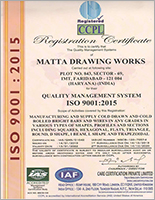 Read More